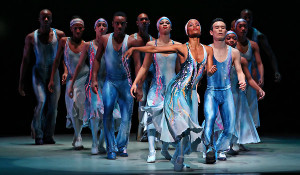 This past Sunday I attended a performance by the Alvin Ailey American Dance Theatre at New York City Center (Happy Birthday to me, I guess!).  Prior to leaving NYC, I was a regular Ailey attendee and made a point to see a show or two every season.  This was the first year in the last four that my schedule allowed me to partake in the awesomeness that is Ailey so I refused to let the opportunity pass.  Thoughtful and deliberate about my performance choice, I purchased tickets for two different evenings–one of which was last Sunday's Ailey Classics schedule.  More specifically, when I saw that the evening was a farewell performance for Renee Robinson, I knew I had to be there.
Ms. Robinson's professional dance career spanned 30 years.  She's the last remaining original Ailey member, holds the longest tenure of any female member of Ailey, and she's the only dancer to have worked for all three artistic directors–to include Mr. Ailey, himself.  If you have ever had the privilege of watching her perform, you know firsthand that she is special.  She commands the stage in a way that defines grace, authority, confidence, and wisdom–all at the same time.  When she dances, no matter what is happening on stage, your eyes are drawn to her–not because she is (was) a principal dancer but because she is (was) just that darn good.  Over the years, I've enjoyed watching her tremendously; words can't adequately express my adoration and appreciation of her talent and impact on the dance world.  However, the New York Times ran a great feature on her today so, perhaps, I'll let them take a stab at it. 
As I watched her final performance in Revelations and reveled in her holding that signature parasol high above her head during "Wade in the Water", I couldn't help but think of the passion, commitment, and stick-to-itness that her career represents.  Subsequently, I thought to myself:
"30 years??  That's an awfully long time to do any one thing."
She has performed for 30 years.
She has followed her passion for (over) 30 years.
She has studied and perfected her craft for (over) 30 years.
She has a legacy that will likely out live her…based on her career…of 30 years.
Inevitably that ushered me into a period of (more) reflection:
About what am I REALLY passionate?
Is there anything I am passionate enough to do for 30 years?
Where do I want to leave a mark?
What is my sphere of influence?
What (or who) will ultimately benefit (and be blessed) because of my contribution?
Always the tough questions, eh?
Your turn:
About what are you REALLY passionate? (not the b-school essay passion; the "if-I-didn't-have-to-worry-about-a-paycheck-what-I-would-do" passion)
Is there anything you are passionate enough to do for 30 years?
Where do you want to leave a mark?
What is your sphere of influence?
What (or who) will ultimately benefit (and be blessed) because of your contribution?
Cheers, Ms. Robinson!  As if your 2012 Dance Magazine Award honor wasn't enough, you gave the perfect farewell performance that will have folks talking for years.  I am inspired by your talent, tenacity, and longevity, and I know many others are as well.
Thanks for the push…for forcing me to answer the question:
"What must I do with the next 30 years of my life?"
Brava to you, Renee Robinson.